strange imperialism and neoliberal ethos of the Surf Industrial Complex
Written by Cori, Posted in Deconstructing Surfing, Environmental Justice, Politics, Surfing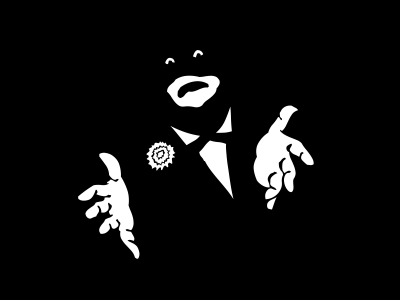 Image: Salvatore Vuono / FreeDigitalPhotos.net
"Surfing is good for the world." -Fernando Aguerre
When I decided to boycott the women's longboard championship in China last year, I received an email from the then ASP World Tour CEO, Brodie Carr, who suggested that I "proactively go there [China] as an ambassador of a sport that possesses the unparalleled ability to empower people."
The primary question I contemplated was does surfing actually possess an inherent, unparalleled ability to empower people? The first task I set for myself in understanding this question was to deconstruct what was meant by the word empower. Carr and I were at odds with how to define a number of his "suggestions" (e.g. role model, ambassador), but the fundamental point of disagreement surrounded our divergent definitions of empowerment of the people of China, in this context. The people I wished to empower were of a different social standing than the people Carr wanted to empower.
It is perhaps predictable that a business person entrenched in a Chicago School style, neoliberal (also known as neoconservatism) pursuit of capitalism will be at odds with a human rights advocate regarding the conceptualizing of empowerment given the context of modern day China.*(see note below "Sri Lanka") While I cannot with certainty claim to know the inner workings of Mr. Carr's thoughts concerning his definition of empowerment, or who he believed surfing could empower, I did have the context of his business associations through and within the ASP and the fact that alterations to the ASP board of directors in 2009 opened the board to two Independent Directors, both from successful mainstream businesses (Walt Disney/Dreamworks and Formula 1).*(see note below "Richard Grellman") Needless to say, our definitions, given the directionality of our perspectives, did not align.
Carr's suggestion led to a second question: Is the supposed inherent ability to empower people through surfing best proselytized by SIMA, ISA, ASP, and those who stand to reap profits from such missionary ventures (the Surf Industrial Complex [SIC]), as Carr and Fernando Aguerre, President of the International Surfing Association (ISA) and Surf Industry Manufacturers Association (SIMA) Senior Advisor and frontman, seem to suggest?
The ongoing conflation of that which is inherent to the activity of surfing, or the positive benefits of the activity of surfing itself, and the intentions and schemes of SIC in the name of surfing, seem too thickly bound at this point for anyone enveloped within the industry to distinguish between the two. This holds true from CEOs and organization presidents to sponsored surfers and surf coaches.
Aguerre, discussing the move of the ISA into China with its recent ISA China Cup, certainly indicates no conflict:
"As for the ISA, our intention is simple: We are here to take surfing to new nations around the world, and bring the surfing dream and culture to them. Since the Duke went to Australia in 1915, the promotion of surfing has helped the business sides of the sport. There is nothing wrong with making a decent leaving [sic] selling trunks, tennis rackets, or snowboards. The Chinese youth has [sic] a keen interest in action sports. The ISA is an organization dedicated to promoting the positive aspects and influence of surfing. Bringing it to 1.3 million that barely know surfing is part of our mission. Surfing is good for the world."
While the local promotion of surfing and beach activities did help the Waikiki Beach Boys in the early 20th century, it would be grossly misleading and disrespectful to Hawaiian culture, to link Duke and the Beach Boys to the current "surf business" so reductively. Along with his spurious re-writing of surf history, Aguerre implies in his statement, that what is good for the ISA and good for action sports businesses (as the current missionaries of the sport), is also good for the world.
Aguerre's leaps and reductive thinking are not uncommon and seemingly allow him (and others in the industry using similar heuristics) to avoid accountability for inconsistencies in word and deed. I am reminded of the opening night of the Women On Waves exhibit back in 2010. There were quite a few women on hand at the California Surf Museum in Oceanside, California who were legends, some within the industry and some not, old and young, from every genre and corner of the surfing world. Women who had helped to carve out a space for future generations of women; women who have had to struggle against ridiculous stereotypes and inequalities in the surfing world. Everyone was excited, people who hadn't seen each other in years were reconnecting, exchanging years of stories and younger women were able to meet some of their heros.
Taking center stage as the official opening ceremony was about to take place, on a platform raised above the crowds stood a select group of women, sponsors, and Aguerre. The crowd's noise level did not drop fast enough for Aguerre, so he grabbed the microphone out of the hands of the woman trying to quiet the crowd. He yelled into the microphone, telling everyone in a very aggressive way that they needed to shut-up. He also felt it was his duty to lecture the group of people about why they were at this event. I couldn't help shaking my head and wondering how this man, who single-handedly popularized the most controversial, demeaning ads in surf media in the '90s (a campaign still going strong today), would feel it appropriate to lecture a crowd of legendary surf women on respect.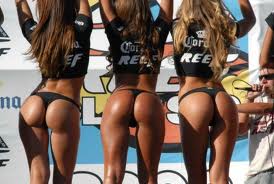 Fernando and his brother founded Reef, a company that uses the backsides of women, in various settings and poses (usually close up) in their branding consistently. More often than not, this is all you see of the women.
"The right to limitless profit-seeking has always been at the center of neocon ideology †(Klein, p. 407)."
The inability to distinguish what is good for business from what is good for society, or for human beings, is a core concern that has been growing for a number of years. People who are profiting from free-trade zones, privatization, corporatism, wars, and lax environmental and factory standards understand empowerment through a lens of neocolonialism. That is to say, that they understand that to be empowered is to be able to buy material/luxury goods, to make (more) money, and to spend (more) money. This mode of understanding sees empowerment in its most material form and does not comprehend that what is good for businesses set on cancerous growth, will ultimately kill the host.
Surfing can be empowering, but not in the environment ruled and sold by SIC. In this context, surfing is conflated and warped into something far more repressive and tends to look more like fakery and opportunism. SIC alters itself to fit the contours of the organ it feeds on, so if fans and pro surfers wish to see more "free surfing" they give them sponsored "free-surfers" (a concept I find ridiculously conflicted) and a one-off event featuring "tour-rebels" whose decisions, much like Slater's Rebel Tour, seemed to force a shift in direction. Behind the curve, yes, but responsive. Does this responsiveness only apply to the most trite of alterations? Or can it be seen as an indication that the industry is more pliable and open to positive change?
Ultimately it can always be argued that a surfer doesn't have to engage in the spectacle of the Cirque, but at this point in the game, this is much like encouraging the witness of a brutal beating to walk-on-by and just keep enjoying the sunset. Will surfing empower you to demand change from the Surf Industrial Complex?
Notes:
*Sri Lanka: This is not only true of the situation in China. For example, in July 2011, the ASP broke ground (using pro longboarding once again and pro women shortboarders) in Sri Lanka with the Sri Lankan Airlines Pro, at Arugam Bay. In 2004, after the tsunami ravaged the coast of Sri Lanka, hoteliers quickly moved in, under the cover of the government and local police, and purchased lands that were once fishing villages for locals. The "riff-raff" was pushed out by a fortuitous natural disaster. They were held back by government and local police while the large hotel companies were allowed to build up areas like Arugam Bay specifically to attract tourism. The ASP and partners took advantage and the event went off with the same type of fanfare that hailed China, though on a smaller scale.
[EDIT: 7/24/12 Attacks on Women, Arugam Bay, Sri Lanka. It is absolutely grotesque that the ASP ran women's shortboard events here.]
Two months after the ASP event, the government, very empowered indeed, bulldozed dozens of hotels on the beach front in Arugam Bay.
"[Some] hoteliers claimed the incident was a ploy to push tourists into larger resort hotels – a claim supported by human rights groups, but denied by the Sri Lanka tourism ministry."
Last month approximately 40 more properties were demolished in like fashion. Locations like these, that have become the strange new hallmark of the ASP world tour, are meant to be mutually beneficial relationships, but when thinking of only The Business and The Host of these events, quite a number of elements (the local people, the local environment, land rights, to name a few) get glossed over.
"[Fred Carver, campaign director for Sri Lanka Campaign for Peace and Justice] criticized 'morally dubious' tourism projects in Hambantota and Kalpitiya, on the south and north-west coasts [of Sri Lanka], respectively. The charity Tourism Concern claims that such developments are displacing communities, ruining the livelihoods of fishermen, threatening food security and wreaking havoc on the environment."
*Richard Grellman: Of note, the Independent Chairman of the ASP, Richard Grellman, is dealing with more counting errors than those crowning a surfing champion.
The Australian WHK Group, LTD, of which Grellman is the Chairman and Independent Non-Executive Director, is the 5th largest accounting business in Australasia, with a history of mergers and acquisitions of companies that range in focus from heavy industry to real estate. Its practice of acquiring Chinese state-owned investment and land development businesses is of particular interest. The WHK Group is an exemplary model of a company doing business a la neoliberal capitalism.
The WHK Group was one of two auditors responsible for overseeing the compliance of an investment company called Trio Capital, which managed 28 investment schemes. The largest of these schemes, valued at $118 million, was the Astarra Strategic Fund which was given, by Trio to Astarra Asset Managers, to manage its funds investments. They managed the funds right out of existence. Those running the Astarra Strategic Fund are in jail currently, pending an ongoing Australian Federal investigation.
The audit conducted by WHK Group was called into question by Ripoll in November of 2011, but the results of the findings have been postponed until May 9th of 2012, due to the Parliamentary Joint Committee's decision to further research "a number of issues" that include "…the extent to which 'gatekeepers', including auditors, custodians, research houses and financial planners have failed."
† Klein, Naomi, The Shock Doctrine, 2007.

This work is licensed under a Creative Commons Attribution-NonCommercial-NoDerivs 3.0 Unported License.