Disharmony of SONGS
Written by Cori, Posted in environment, nuclear energy, Politics, Surfing, Uncategorized
While countries like Germany are backing away from or at the very least, seriously questioning nuclear power as a viable energy alternative in the wake of the Fukushima disaster, the United States is taking two giant steps in the opposite direction. In February, the Congress appointed, five-member Nuclear Regulatory Commission (NRC), a group that has come under fire from Senator Boxer for infighting recently, licensed two new nuclear power plants to Southern Company, the first such licensing since 1978. Additionally, seven more plants are due for a renewal of their 40 year license agreements starting next year through 2016.
2022 will mark the year Southern California Edison (SCE) will be up for renewal of their license of the San Onofre Nuclear Generating Station (SONGS). An SCE spokesperson has stated that the decision to relicense the plant has not been made yet. The city council of San Clemente set up public hearings at the end of last year in order to better inform itself, neighboring communities, and the public about the safety of the plant after the disaster at Fukushima. After the hearings, the city council of Laguna Beach, with Elizabeth Pearson declining, agreed to join San Clemente in demanding that the NRC enforce stricter safety measures and implement comprehensive evacuation plans or else shut-down the generators operated by SCE.
I attended one of the hearings in September of 2011 during which internationally recognized experts not affiliated with the nuclear industry or with the NRC gave presentations about nuclear power in general and SONGS in particular. The information I learned that night from experts like nuclear engineer Arnie Gundersen and Dr. Helen Caldicott awakened a sense of discomfort around an architectural structure that had, up until that point, been nothing more than a source of nostalgia for me.
My family spent many summers surfing Old Man's and The Point just north of SONGS. My sister and I would play with the other kids our age on the beaches, in the waters, and in the bursts of bamboo that we imagined were fairy groves on the sands. At low tide, we would stalk the slugs that littered the exposed rocks close to shore, occasionally encountering small octopi, and star fish. We would come home, exhausted, and crawl into our beds with dirty feet, skin tight from sun and salt, and fade into sleep with wide smiles. These are warm memories I carry within me from my youth, grounding moments in time before life expanded to a more complicated adulthood.
I cannot deny the nostalgia I feel for these memories, nor can I deny the certain bit of warmth that I feel as soon as my truck wheels hit the end of the paved road leading into San O. The bouncing, hopping, and jittering communicates via some secret language to my body that I have returned to one of my nomadic homes.
"Federal regulators have cited Southern California Edison's 2,350-megawatt San Onofre nuclear power plant near San Clemente dozens of times in recent years for safety violations that include failed emergency generators, improperly wired batteries and falsified fire safety data, records show." –Bensinger & Sarno; LA Times 3/21/2011
Of the 104 in the United States, the San Onofre Nuclear Generating Station (SONGS) is arguably one of the worst. Based on safety records, potential disasters, and nearby populations, The Daily Beast lists SONGS as the second most vulnerable nuclear plant in the US behind Indian Point.
"Nuclear safety is our top priority," said Pete Dietrich, Southern California Edison senior vice president and chief nuclear officer. "Everything we do — from normal plant operations and routine refueling outages to specialized repairs and equipment replacement — is done with the utmost care to protect the health and well-being of the community and our employees. There is no timeline on safety."
"If we would ask the cigarette industry if their product is safe, they would probably come and tell us it is. Or if we asked the oil industry if drilling in the Gulf is safe, they would probably tell us it is.  Let's face it, industry experts are paid to tell us their products are safe." –local resident Mike Beenan commenting on nuclear industry experts.
Leaving its location near the ocean and its proximity to the San Andreas fault aside, the most pressing concern, despite claims by Dietrich, continues to be SONGS' consistently poor safety record and "chilling" safety culture, one that dissuades workers from bringing safety concerns forward because of fears of reprisal. Poor safety culture has been a major factor in nuclear disasters, from Three Mile to Fukushima. The NRC has received 53 separate allegations regarding safety concerns at SONGS in 2008-09, well over the industry average.
"I would also say in reference to whistle-blowing, when I look at the nuclear industry over the years … the whistle blowers are the ones who blow the whistle on safety problems, they're not the ones who blow the whistle because they don't like this or that." -Senator Barbara Boxer in a hearing before the Senate Environment and Public Works Committee.
Gary Headrick of San Clemente Green stated at the September 2011 city council hearing that he felt he had no choice but to take action after whistleblowers who worked at SONGS approached him about "concerns about short cuts on testing the new generators, unreported safety violations, falsifying records and promoting a culture of cover-up. While these significant claims have been forwarded to the NRC for investigation, they failed to get the various bureaucratic agencies to take any action." You can view a leaked memo from SONGS' upper management about their Nuclear Safety Culture here and more whistleblower claims here.
Both Unit 2 and 3 at SONGS have been shut down since January 31st of this year due to a radiation leak. Wednesday, March 14th, officials stated that three steam generator tubes have failed a pressure stress test. The tests are being run because tubes in Unit 3 are showing a higher rate of wear than normal.
There has been no reported change in power services because of the shutdown.
When asked about this, a whistleblower who works at SONGS notes that we have an excess of energy in California, a buffer.
"We use nuclear power because it is available, not because we need it. We blindly accept the risk of a Fukushima scale disaster because we are led to believe we would have to endure blackouts and huge financial loss without it. What more proof is required to understand that we don't need [nuclear power or the few private companies who reap the benefits of huge profits] after having no nuclear power for [45] days and counting?" –How Do We Still Have Power…?
Problems began at SONGS from the very beginning when only 46 days after it was initially fired up, Unit 1 malfunctioned and had to be shut down. In 1982, the unit was shut down for "a refueling and scheduled maintenance outage" because of concerns regarding Unit 1's capacity to handle seismic activity. Additionally, around this time, a city ordinance by San Clemente requested stricter safety measures be required from SCE.
The NRC acknowledged that the Unit should remain shut down until it was upgraded. However, in 1984, SCE successfully lobbied the NRC, after pressure from the California Public Utilities Commission threatened an adverse rate treatment if the unit was not restarted, to get the Unit back online despite not having made the necessary changes to the unit. Unit 1 was finally retired in 1992 and buried at the site, where it remains to this day, along with thousands of tons of spent fuel rods.
This dilemma of the storage of radioactive waste is one of the challenges that promises to outlast anyone living today, or their grandkids' grandkids' grandkids. It is difficult to grasp the length of time it takes for radioactive waste to become non-radioactive (up to a million years per particle). Hundreds of thousands of years to one million years may be easier to grasp than the trillions of dollars our government is in debt, but imagining 1,538 generations, or so, for each hundred thousand years that pass, is quite a mighty undertaking.
With many of the nuclear plants reaching a crisis point where their collective millions of pounds of radioactive waste need off-site dump facilities — indeed, if SCE chooses to relicense SONGS, San Clemente plans to request they offload their 4,000 tons of radioactive waste from beneath the plant before relicensing — the United States Department of Energy's Blue Ribbon Commission on America's Nuclear Future has been busy polishing its two-year long investigation for just such a crisis. Their preferred solution? "Centralized interim" storage, allegedly temporary, though potentially permanent, dumpsites that may carry on an American tradition of "Radioactive Racism" by continuing to discard waste on Native Indian reservations or in the back yards of poor communities of color.
PBS Frontline:
"Because [the] design [of the Daiichi nuclear reactors] was widely used around the world, is it more of a wake-up call [than Chernobyl]?"

NRC Chairman Gregory Jaczko:
"I think it's certainly more directly applicable here in the United States, and that's something that I think we're taking very seriously."
Ms. Kyoko Sugasawa and Mr. Hirohide Sakuma flew to California from Japan to mark the one year anniversary of the Daiichi disaster at a peaceful protest near SONGS on Sunday, March 11, 2012. They noted the similarity in the situations between the Fukushima Daiichi plant, and raised their concern for the people and the environment surrounding SONGS. They spoke at the community center in San Clemente the night before along with Kyle Thiermann, a Santa Cruz local and inspiring activist who has emerged from within the surfing community to take on issues ranging from vulture banking practices to pollution. Kyle's most recent campaign zeros in on the possibility of a nuclear power plant being built just a short distance from the renowned and beloved Jeffrey's Bay in South Africa.
"Radiation levels in the plant's cooling system [Unit 2 at SONGS] doubled from January to February 2011 and continued to climb through the end of the year.

..increasing levels of radiation in the water that cools the reactor probably indicates that the metal tubes (called cladding) that contain its fuel pellets are cracking." –David Lochbaum, Union of Concerned Scientists, after reviewing Nuclear Regulatory Commission (NRC) reactor operation statistics.
Listening to Ms. Sugasawa and Mr. Sakuma speak brought the distant disaster home. I stood, gazing at the double domes of SONGS as the Japanese guests spoke of their experiences, pondering how many years I, and my family and friends, had played in the water that washed from the plant (reports vary as to the degree of radioactive elements found in the sea near the plant) and in the sands on the beach (radioactive elements tend to fall and collect near the ground rather than hovering in the air). I took stock of my close family and wondered about a certain non-genetic, failing thyroid issue recently diagnosed. With the frequency of exposure my family has with the waters in Southern California, exceptional "horror stories" are becoming the norm for my lineage. Watch my cousin's gruesome story here.
"…if that system were to fail, ultimately we've got a way to make sure that people are protected and that the radiation exposure is minimized through evacuations or other types of methods."
I wondered at the lack of a viable emergency plan for the 8.4 million people living within a 50-mile radius of the plant — the distance the US recommended American's evacuate around the Fukushima Daiichi after the earthquake in Japan — in case something went horribly wrong at SONGS. The plan currently in place only takes the 10-mile radius around SONGS into consideration.
"If we do our jobs right, I think ultimately that there will probably be more nuclear power.
… If ultimately the kinds of safety enhancements that are necessary are just not determined to be cost-effective, then there probably won't be plants.

We have a number of utilities who have expressed interest in nuclear construction in this country. We are reviewing a number of applications for new reactors, and … if those designs and those applications meet our safety standards, we'll move forward with approvals. If they don't, then we won't."
The argument for nuclear energy revolves around the cost-effectiveness of nuclear energy, evils of dirty alternatives (as if nuclear waste wasn't itself dirty), and the fact that much land is required for wind turbines and solar cells. Are we so deep into cost/benefit analysis that the "cheapest to produce" trumps "the safest" for humans and our future? What strange mathematics are we using? What deranged mentality continues to put profits over people, as if "progress" were a material goal more worthy and valuable than life itself?
Radioactive Seawater Map March 2012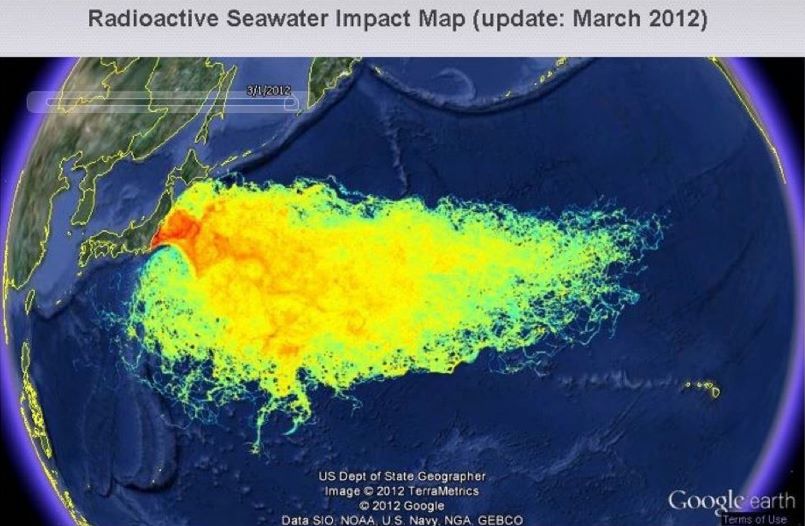 For more information:
Residents Organized for a Safe Environment
Surfing For Change: Kyle Thiermann surfing activist
Helen Caldicott on Fukushima and the Perils of Nuclear Power
[youtube http://www.youtube.com/watch?v=gN0eDUy_X40&w=420&h=315]
Write your legislative representatives to express your concern, repeal the Atomic Energy Act of 1954, and stop the NRC from issuing and renewing licenses for nuke plants.
National Report for the Convention on Nuclear Safety
6.2.8
"The NRC regulations in 10 CFR 2.206 allow any member of the public to raise potential health and safety concerns and ask the NRC to take specific enforcement actions against a licensee. If warranted, the NRC can modify, suspend or revoke a license or take other appropriate enforcement action to resolve a problem identified in the petition. Recent changes made to the petition process emphasize a timely response to the petitioner and encourage increased, direct involvement of the petitioner (in addition to involvement of the licensee) by allowing the petitioner to personally address the petition review board and comment on the agency decision."
Gov Brown email: http://govnews.ca.gov/gov39mail/mail.php
Governor Jerry Brown                                 Phone: (916) 445-2841

c/o State Capitol, Suite 1173                  

Sacramento, CA 95814                                 Fax: (916) 558-3160
California US Representatives: http://www.govtrack.us/congress/findyourreps.xpd?state=CA
Find Your California legislators: http://www.legislature.ca.gov/legislators_and_districts/legislators/your_legislator.html
US House of Representatives: http://www.house.gov/representatives/
US Senators: http://dir.yahoo.com/government/u_s__government/legislative_branch/senate/senators/