The Year in Review, 2013
Written by Cori, Posted in environment, Environmental Justice, Feminism, nuclear energy, Surfing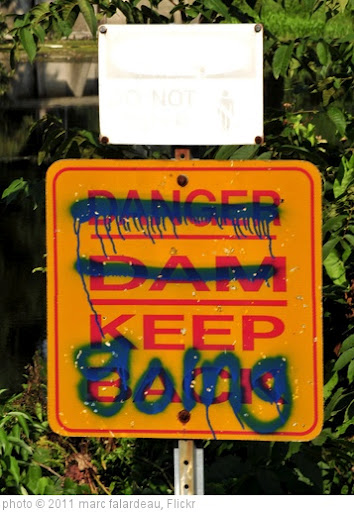 This was a monster of a year for discovery and activism in surf culture. For this reason, I think it would be beneficial to highlight and revisit those topics covered this year that have been most salient, before we enter a new year. Please feel free to add to this list in the comment section as I will undoubtedly miss some issues you feel are important.
Excavation can often be a tedious necessity, but once the groundwork has been laid, and the internal contents of a monoculture filleted, the possibility of the emergence of something healthy, diverse, and robust may begin the process of emergence. Not, of course, without some backlash and push-back. Yet, if we learn to pinpoint what this push-back looks like and question the value of what it proposes, we can effectively side-step a windmilling wipe-out (or at least get out of the way of those intent on a crash-and-burn trajectory) and take that next, strategic step: an away-step, if you will, from the entrenched stagnation of a slowly decomposing power structure.
*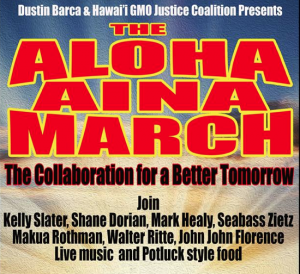 No GMOs in Hawaii… but what about genetically modified cotton?
Earlier this year I found a few connections in the upper echelons of Quiksilver/Roxy's global business dealings that I consider heinous and irresponsible. Most egregious of these is that of its pairing with Reliance Industries in 2011, to pioneer a global youth trend throughout the South Asia region. Reliance Industries' current Vice President, Santanu Dasgupta, worked over 10 years deep within Monsanto's India branch in such roles as "Gene Expression Technology Pipeline Platform Lead" and "Director of Regulatory Policy & Scientific Affairs."
To those familiar with the modus operandi of Monsanto, it will come as no surprise that a longtime employee of Monsanto conveniently ended up in an especially influential role at "the second-largest publicly traded company in India by market capitalisation[sic] and by revenue after the state-run Indian Oil Corporation." Reliance Industries is responsible for 14% of India's total exports.
Pro surfers are, with some notable exceptions, relatively quiet when it comes to controversial topics, however GMO food and the use of Hawaiian land by companies producing it, has captured the environmentally oriented activist imagination of 21st century surf culture. This is an understandable outgrowth of the protection of our playground, but does it extend any further? Does the 21st century surf activist have the capacity to extend her/his activist attention to the clothes s/he wears? Hundreds of thousands (if not millions) of Indian farmers would greatly benefit from this extension of attention, many of whom are the widows and children of farmers who have committed suicide as a result of GM companies' seed practices, widows who are not considered farmers with defensible land-rights by the Indian government.
The raised voices of surfers, especially pro surfers, the core that these surf companies claim to represent, are needed in order to shift these irresponsible, untransparent practices by surf brands. With many other brands, looking into the practices of parent corporations (e.g. VF Corp who owns Reef and Vans) yields equally disturbing connections, from land grabs for oil pipelines to slave labor practices.
Investigation also reveals some unsung heroes. We have already established that Patagonia has been practicing business in an ethically responsible fashion (many thanks to a long-standing partnership with Bluesign), but did you know that Volcom, through its parent company Kering (previously PPR), is also well on its way towards restructuring its mode of doing business in order to accomplish more responsible and sustainable business practices? This isn't simply lip service. Kering/PPR and their companies are starting to show up on indices and commitments linked to responsible cotton sourcing, among other things, right alongside Patagonia. I hope to delve into and investigate this move by Volcom further in 2014.
*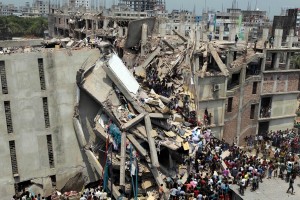 Bro, your pants are on fire.
Following closely on the heels of the above bad business practices (and solvable via the same set of solutions), surf brands getting into business relations with the wrong folks blew up, literally, this year.
The situation continues. Following the November announcement that Quiksilver had signed a new licensing agreement for its kid's line (US) with Li & Fung Ltd., it was reported that another fire had broken out (worker unrest) in a factory used by Li & Fung Ltd.
The many fires and factory collapses in Bangladesh arise from worker unrest and crippling working conditions, conditions taken advantage of by corporations who need cheap labor for fast-fashion. It is both consumer desire for cheap, disposable clothing and corporations' commitment to pad the wallets of its shareholders that leads to tacit collusion in these catastrophes. We have a responsibility to ask where our clothing is coming from. It is no longer feasible to claim ignorance in the face of so much "collateral damage" in surf brands' business practices.
"Once such a question is explicitly asked, it becomes clear that whatever answer the investigation of a particular case may suggest, there are good reasons to suspect that what the invoking of the 'unintentionality' argument intends to deny or exonerate is ethical blindness, conditioned or deliberate." -Z. Baumann*
*Baumann, Z. Consuming Life, p. 118. Many thanks to Clifton Evers for this book recommendation.
*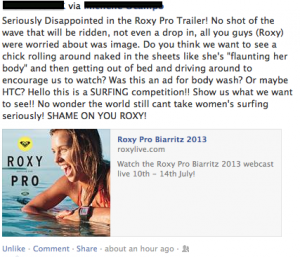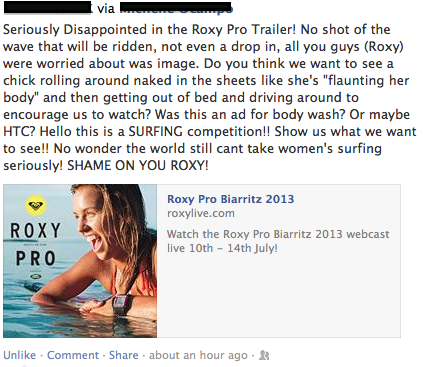 The public says enough to sexploitation in representations of women in surfing.
This was a benchmark year for the way the public responded to how women's surfing is being portrayed by and in Big Surfing. Since around 2010 many of us have watched as women's professional surfing has lost events on the ASP and prize money, even as it has been paraded around by brands and surf media like some carnival made up solely of skin.
While some may claim that the reaction received by Roxy's Biarritz competition trailer was overblown, I would contend that the response was equal to the problem, which is far greater than the actual trailer and has been building for some time. Interestingly, the fragmentation of surf culture consciousness when it comes to women's surfing disallowed the ability to connect the dots between the response to the trailer and the persistent sexualization of the female professional/sponsored surfer.
Indeed, it is this fragmentation, from the past and from future generations of female surfers, that allows such an environment to persist. A perfect example of this fragmentation can be found in comparing web casts of pro men's surf events with pro female's surf events. In the men's events, we hear history: the history of the event and its importance in surfing (e.g. when Simon Anderson won Bell's, signaling the arrival of the thruster and a whole new era of surfing), the history and continued relevance of heroic male surfers (often showcased at the event with their narratives and stories being honored) from many decades past. In women's events, if we hear history at all, it spans only to the birth of women's surfing brands, a mere generation past, if we are lucky. Generally, only one woman from the past is ever given the opportunity to share her story: Lisa Andersen, Roxy's original, and still employed, ambassador.
The petition and the campaign are ongoing. The last update I sent included the most recent information, that is, that one of the two individuals I spoke with at Roxy for the delivery of the petition is no longer working at Roxy. The other is not returning any of my emails requesting a second meeting to go over the 45-page packet we left.
Some might wish that the collective surf consciousness shift away from these tough conversations, focusing instead on the frivolity and fun that sells clothes, but it is imperative for us to remember that these are the voices of the privileged and those Big Surfing sponsors/employs, those who make their living convincing you that they are living the dream, a dream fueled by Bt cotton and inhumane labor conditions. And perhaps they are living a present-only focused somnambulance… but, I would ask, who pays for their ambivalence?
The work continues unabated. There are projects in the works, alternative narratives emerging, and a merging of surfeminism with extrinsic elements that I am very optimistic and excited about. This conversation has only just begun and I, and many others, are committed to a future where ability and hard work transcends image and illusion, where the present reaches out to the past for its foundation and its wisdom to build a better future.
*
Activism and persistence shuts down one of the most dangerous nuclear power plants in the United States.
Activism can be a relentless slog with few celebratory moments, but those who choose to do this work do it because "If not me, then who?" Activists audaciously hope with a pragmatic idealism, bent on doing what others have deemed impossible or 'unworthy of attention' in our now-oriented, pleasure-driven, consumerist culture.
This summer, the impossible gave way due to the hard work and organization of a few. There is still much work to be done (dismantling and the problematic storage of a huge radioactive load), yet it has been proven that shutting down a nuclear power plant can be done.
In addition, the very legitimacy of the narrative that nuclear power is a "clean" alternative to fossil fuels has been questioned this year and while we still have to deal with the consequences of the slow meltdown of the Fukushima Daiichi plant, consequences that may well affect the surfing population more than anyone, we are learning. Fast enough? Hope so. I also hope that the Surfrider Foundation will engage with these issues. Their silence is concerning.
*
In an age when the disposable trumps persistence, some stand against the tide and find they can bear it. Moments of celebration are sweet and the work, she finds, she can bear by balancing struggle with soul renewing conversations, play, and camaraderie. She gives herself space for it all and is neither confined nor defined by any single one of these, being all and more.
"Hope more," she says, through the noise, the static, the stampede to dispose of the past and ignore the future, to stay ahead of the pack, to stay relevant, impressive, cool… hers is the voice that matters. I'm listening. Are you?
"What lies behind us and what lies before us are tiny matters compared to what lies within us." -RWE