Kelly Slater's Ethical Choice to Leave Quiksilver
Written by Cori, Posted in environment, Environmental Justice, Surfing
Kelly Slater has exited a brand that has seen its fair share of dramatic push-back over the last year, from the uproar around the Roxy Biarritz Pro Trailer to the link I discovered between Quiksilver and Monsanto.
Many are wondering why KS made such a drastic move. In my post, A Year in Review, 2013, which I posted last year in December, I zeroed in on a couple of interesting points that directly speak to why I think KS made this move to the Kering Group to begin his shift toward building his own brand of clothing. While it is not only an ethical move, there is no doubt in my mind that with KS's growing focus on his activist activities (e.g. against Monsanto) played a major role in this decision.
"They [the Kering Group] share my values and have the ability to support me in all of my endeavors," said Slater.
What I believe is implicitly stated here is that Quiksilver, without an environmental P& L the likes of which the Kering Group instituted in 2013, cannot offer Slater the fulfillment of his dream
"…of developing a brand that combines [his] love of clean living, responsibility and style."
While Slater may not directly state that Quik is no longer aligned with his values, his action is indictment enough.
The Kering Group's Ethical Rating in the first year of participation (2013):
"Kering is also listed in the ethical rating indices FTSE4GOOD, Aspi and Ethibel Excellence. In addition, Kering's sustainability reporting complies with Level A+ of the Global Reporting Initiative (GRI)."
They still have a ways to go, especially with responsible cotton sourcing (which is easily one of the most difficult transitions for a large conglomerate to make) but the huge machinery has been set in motion. As always, we'll keep watching closely…

*
The following text is from A Year in Review, 2013, posted December 17, 2013
*
No GMOs in Hawaii… but what about genetically modified cotton?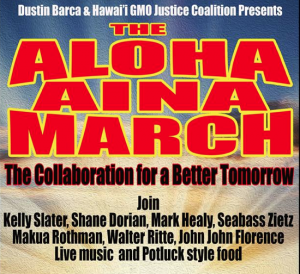 Earlier this year I found a few connections in the upper echelons of Quiksilver/Roxy's global business dealings that I consider heinous and irresponsible. Most egregious of these is that of its pairing with Reliance Industries in 2011, to pioneer a global youth trend throughout the South Asia region. Reliance Industries' current Vice President, Santanu Dasgupta, worked over 10 years deep within Monsanto's India branch in such roles as "Gene Expression Technology Pipeline Platform Lead" and "Director of Regulatory Policy & Scientific Affairs."
To those familiar with the modus operandi of Monsanto, it will come as no surprise that a longtime employee of Monsanto conveniently ended up in an especially influential role at "the second-largest publicly traded company in India by market capitalisation[sic] and by revenue after the state-run Indian Oil Corporation." Reliance Industries is responsible for 14% of India's total exports.
Pro surfers are, with some notable exceptions, relatively quiet when it comes to controversial topics, however GMO food and the use of Hawaiian land by companies producing it, has captured the environmentally oriented activist imagination of 21st century surf culture. This is an understandable outgrowth of the protection of our playground, but does it extend any further? Does the 21st century surf activist have the capacity to extend her/his activist attention to the clothes s/he wears? Hundreds of thousands (if not millions) of Indian farmers would greatly benefit from this extension of attention, many of whom are the widows and children of farmers who have committed suicide as a result of GM companies' seed practices, widows who are not considered farmers with defensible land-rights by the Indian government.
The raised voices of surfers, especially pro surfers, the core that these surf companies claim to represent, are needed in order to shift these irresponsible, untransparent practices by surf brands. With many other brands, looking into the practices of parent corporations (e.g. VF Corp who owns Reef and Vans) yields equally disturbing connections, from land grabs for oil pipelines to slave labor practices.
Investigation also reveals some unsung heroes. We have already established that Patagonia has been practicing business in an ethically responsible fashion (many thanks to a long-standing partnership with Bluesign), but did you know that Volcom, through its parent company Kering (previously PPR), is also well on its way towards restructuring its mode of doing business in order to accomplish more responsible and sustainable business practices? This isn't simply lip service. Kering/PPR and their companies are starting to show up on indices and commitments linked to responsible cotton sourcing, among other things, right alongside Patagonia. I hope to delve into and investigate this move by Volcom further in 2014.
*