False Claims of Public Access to Open Space
Written by Cori, Posted in environment, Politics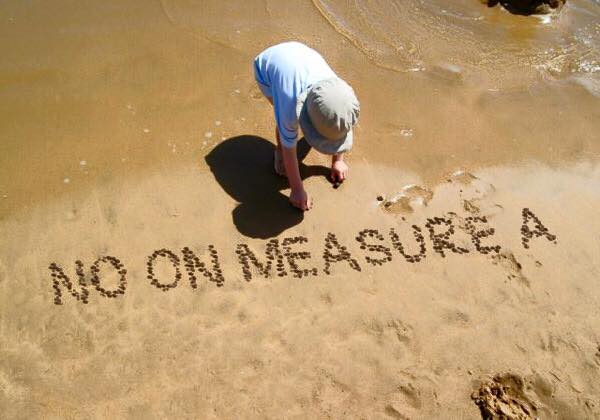 One of the biggest selling points of Measure A, a plan to build a nearly 600,000 square foot mall on a commercial property adjacent to Interstate 5 in Carlsbad, is the supposed "gift" of "new open space": 176 acres of publicly accessible open space on the South Shore of the Agua Hedionda Lagoon.
Yet, as I will show, Measure A:
1) prohibits public access on 76 acres that Carlsbad's Habitat Management Plan could allow public access to, pending Coastal Commission approval;
2) these same 76 acres are already protected through an Open Space Deed Restriction by the California Coastal Commission (2005) and Carlsbad's own Habitat Management Plan hardline boundary.
Some background.
Much of the conversation around the protection of open space on the non-commercial parcel (over 150 acres) we are concerned about in Measure A, has revolved around Proposition D, which was passed by voters in 2006. You can read more about Proposition D here.
Those who support Measure A are attempting to paint Proposition D as a weak act that allows for multiple uses that the public does not associate with "open space," yet what is often not addressed is that Proposition D ensures that suggested development would go through a rigorous public planning process that, given the strong opinions of my neighbors, would guarantee that what is developed on that land would align with our community vision. Admittedly, this assumes a responsible and responsive City Council.
Measure A gives no such assurances to the public, exempts itself from Carlsbad's municipal code, bypasses standard California environmental review (CEQA), and relegates the City Council's and City Planners' roles to ministerial for 15 years.

One of the key advantages to the CEQA process, is the necessity of exploring alternatives to proposed plans, something I feel many in Carlsbad would appreciate a say in, and as Proposition D allows on the open space parcel.
It strikes me as quite ridiculous for the developer to taut the fact that 6,000 residents participated in his privatized planning process over 3 years when there are over 110,000 residents living in Carlsbad, nearly 9,100 of whom signed a referendum in just 30 days demanding the right to vote on the development proposal when our City Council took that option off the table in an arrogant display of power in November (2015).
The precedent Measure A sets for development in Carlsbad and, more broadly, in California, is profound. We are already seeing the same avoidance tactics being used in neighboring San Diego towns. This is especially disturbing given the recent ouster of California Coastal Commission's Executive Director, Dr. Charles Lester, despite an incredible public demand to retain him.
The message being communicated through all of this is that if you have enough money, you can buy your way past the proper development processes along the Coastal regions of California.
Carlsbad is ground zero for this awakening trend, but Carlsbad residents have the opportunity to send a powerful message to developers and their big money interests on February 23rd, if we vote No on Measure A.
False claims of open space access.
There is a battle being waged for a majority public vote on Measure A. The People of Carlsbad's time to study Measure A and its implications, was severely truncated by the City Council's decision to spend around $ .5 million on a special election rather than placing the Measure on the Primary or General Election ballot. Instead of 7 or 11 months to study the Measure and the attending studies and documents, residents were given 3.
I have spent weeks studying around 7,000 pages of documents at this point: the Measure itself, the studies attached, including the City's 9212 report, related ordinances (including implementing ordinances currently in abeyance), LUPs, LCPs, our General Plan (including recent amendments), the Coastal Act, Carlsbad municipal codes, and anything and everything related.
And I am not the only one.
I recently investigated a claim that left me stunned. I attended a Caruso hosted event at the Sheraton last Thursday to inquire about this claim. Here are my findings:
Claim: All 176 acres of open space will be publicly accessible under Measure A. Some explicit examples of this claim, propagated both verbally and in writing, by the developer,  proponents, and even the City of Carlsbad. Three examples are given below.
~
But we have a problem…
> The claim that ALL 176 acres will be publicly accessible is false according to the Agua Hedionda South Shore Specific Plan (Measure A) itself.
> According to Measure A, no trails are permitted in the 76 acres of the Habitat Management Plan zone. Strangely, restrooms are permitted, despite this being contrary to the Coastal Act's definition of development.
> According to Measure A, public access to the 76 acres of the Habitat Management Plan zone is not a permitted use of the land.
~
The problem here…
It is undeniable that the People of Carlsbad are being mislead to believe they will have access to all 176 acres of the open space covered in Measure A (it should be noted that the agriculture zones will also have limited access), but in addition to this, the area for public access is being severely limited from what it currently can be.
Leaving Proposition D aside for the moment, let's take the "Hub Park Lease" into consideration. It has provided Carlsbad the opportunity for public access, specifically, "parks and recreational uses" on approximately 91 acres of the open space parcel since 1975. You can read the Hub Park Lease itself (11 pages) here.
That the City of Carlsbad has never taken advantage of the opportunities for parks, trails, and public access on this land is a failing of governance and political will, not some limit in place from the current property owner. We see this mentioned in Measure A itself: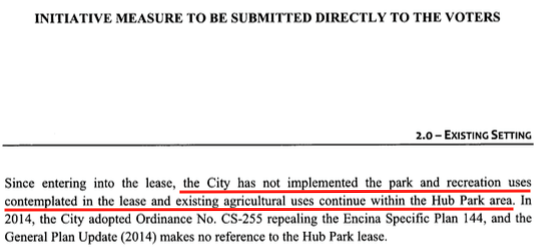 Given that both Agriculture and Habitat Management will have limited or NO public access, this leaves the Passive Open Space (P-OS) upon which we find the promised 3 miles of trails and vista outlooks within the plan area. This zone encompasses about 40 acres. This area is the mottled light green in the zoning map below and represents the land just South of the Open Space Deed Restriction placed by the California Coastal Commission in 2005 and Hardline boundary of Carlsbad's Habitat Management Plan for this parcel.
What does our Open Space actually turn out to be? Approx: 40 acres.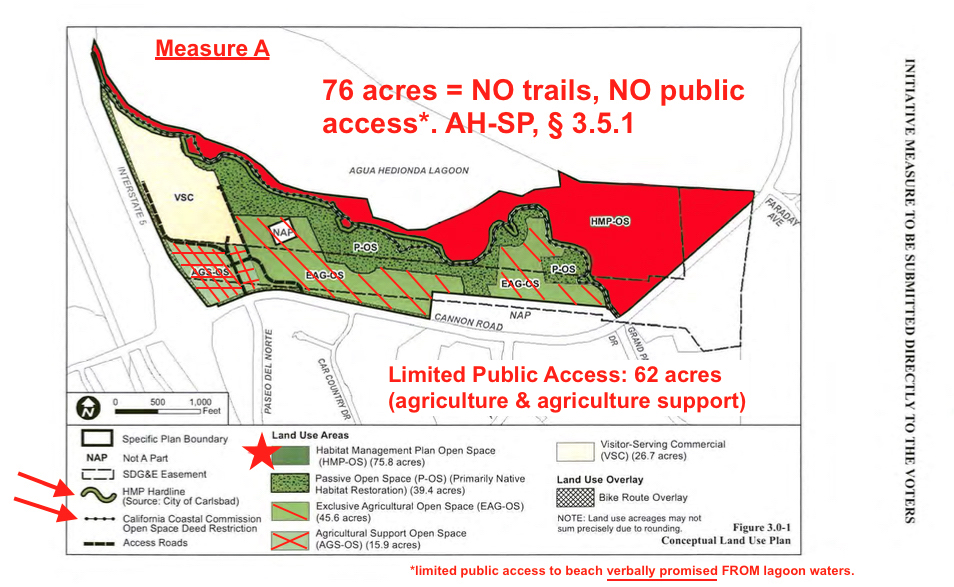 Would Measure A give this land extra protection? 
The Open Space Deed Restriction and the Hardline boundary of Carlsbad's planned Habitat Management Plan exist with or without Measure A. This represents the exact same 76 acres proposed for the Habitat Management Plan Open Space in Measure A. Are there trails allowed in this area? Or other public access options?

~

Carlsbad's guidelines for Preserve Management, in place since Carlsbad lacks a fully implemented, system-wide Preserve Management Plan (which has been noted by the California Coastal Commission with many other such caveats to recent attempts by the City Council to amend our Habitat Management Plan-read here), which Measure A is supposed to comply with, even has enforcement demands in-built, something Caruso has stated that he is doing of his own good will after telling a rosy story of listening to a Carlsbad woman talk about her concern over trail safety. This is simply an act of compliance with the City of Carlsbad's enforcement responsibilities (which, as shown above, also include public education).
In summary…
Carlsbad is gaining nothing that we do not already have with Measure A, but, as many have said before me, we will be inviting traffic, a 10-football fields equivalent mega-mall, setting dangerous precedents for all of California's future coastal development at a time when the California Coastal Commission is on shaky footing, and potentially losing public access to the majority portion of our open space.
Don't be mislead. Measure A is not good for Carlsbad. We need your NO vote February 23rd.