Preeminent Coastal Attorney: No On A
Written by Cori, Posted in Environmental Justice, Politics, Uncategorized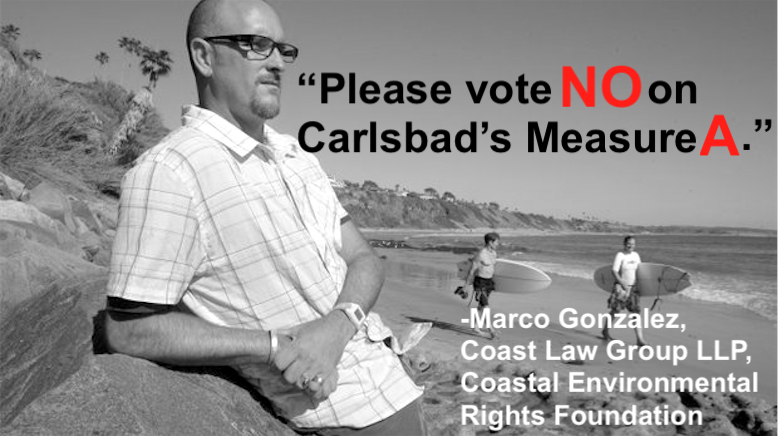 Marco Gonzalez is a name synonymous with integrity and boldness in San Diego. He is not afraid to speak truth to City Mayors, fight billion dollar projects, or call out activists and environmentalists who are not able to incorporate a more inclusive social vision into their perspectives.
Gonzalez stands firmly for environmental justice, which surpasses environmentalism in breadth and scope.
The difference between environmental justice and simple environmentalism can be illustrated through the Coastal Commission's recent 7-4 vote to amend a Northern California permit for a big wave surf contest at Mavericks to develop a plan to include female surfers moving forward.
While many argued this decision, along with another, strangely less publicly controversial move prohibiting Orca breeding at Seaworld, illustrated over-reach by the Commission, I would argue that both of these moves by the Coastal Commission exhibit exactly the kind of 21st century environmental justice perspectives a government agency ought to embrace.
He recently penned an incisive critique of Dr. Lester's firing from the California Coastal Commission, that lauded the rise of coastal activists and attention to the politics of one of the most important oversight agencies in California.
Mr. Gonzalez is a man I respect profoundly, not only because of his unwavering ethics, wisdom, allegiance to the common good, and total commitment to environmental justice, but also because he is a man who courageously and openly speaks the truth, to allies and opponents alike.
Here is what Marco Gonzalez has to say about Measure A:
PLEASE VOTE NO ON CARLSBAD'S MEASURE A
I've received a lot of calls from friends in Carlsbad who don't seem to get it: Proposition A is NOT good for the environment. I would urge all of you who live there to VOTE NO ON MEASURE A.
Caruso's henchmen contacted me early on to help garner public and environmental group support for the project. However, from the beginning it was his intention to try to get the project through (a) without having to go through the California Environmental Quality Act (CEQA); and (b) without fully committing to project elements that would accurately disclose what exactly would be built on the current strawberry fields. I said NO.
Except for maybe the Coastal Act, CEQA is the most important environmental law in the state. It dictates public participation in project consideration, transparency with respect to environmental impacts, mitigation for such impacts whenever possible, and governmental accountability for decision makers. Without strict adherence to CEQA, we simply cannot succeed in balancing our need for housing, transportation alternatives, and economic vitality with our moral obligation to protect our natural environment for future generations. You should not support this end-run around CEQA.
Complying with CEQA doesn't mean a project can never be built here. It does, however, mean that Caruso would have to play by the same rules as everyone else, and not shortcut a process that has proven vital to the quality of life we enjoy in North County every single day. Send him this message with your vote!
For the environment, for good government, and because really, do we need another mall? Please VOTE NO ON MEASURE A if you live in Carlsbad.
–Marco Gonzalez
Coast Law Group LLP
Coastal Environmental Rights Foundation
_______________________________
You can print the pdf of this letter here -> Marco Gonzalez endorsement letter