About
3x Women's World Longboard Champion, Activist, Writer, Speaker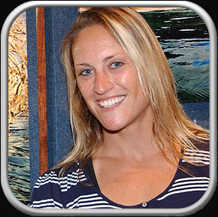 Born April 23, 1977 in Huntington Beach, California, to Craig Schumacher and Jeannette Prince. Our family moved to San Diego when I was two years old. I have lived in North County for 28 years, spending the last 10 years in Carlsbad.
Both my parents loved to surf and met in the water at Newport River Jetties in the mid-1970s. My mother surfed pregnant with me until she was 8 months along, shifting from a surfboard to a mat when paddling on a board became too difficult.
When I was 8 years old, I began competing. Since then, I have won multiple national and international amateur shortboarding titles. I was the #1 US female shortboarder on the 1994 and 1996 US Team for the ISA Jr. Championships and won the 1995 Pan-American Championships.
I have always enjoyed riding every size board, but after spending nearly 2 years on the ASP women's professional shortboard tour in an environment that sapped my love of surfing, I refocused my competitive interests to longboarding.
I am a three-time Women's World Longboard Champion (2000, 2001, 2010), Women's Longboard Pipeline Pro Champion (2009), and two-time ASP North American Champion (2008, 2009). From late 2001 to 2005, I went on sabbatical from competition, surfing in only two events from 2005 to 2007. I returned officially to longboard competition in 2008 to win the Linda Benson Roxy Jam at Cardiff, California. I ceased competing altogether after boycotting the ASP World Tour in 2011.
Upon returning to competition in 2008, I chose to use my platform as a world class athlete to speak out about and work hard for positive social change in and around persistent gender disparity, homophobia, the impacts of consumer culture, and other important social and environmental issues in surfing and sports in general. I have written various articles addressing these issues that have been published in The Inertia, The Guardian, The Surfers Journal, and elsewhere, and have been a keynote speaker at multiple local and international conferences and events.
In 2012, I co-founded the nonprofit, The Inspire Initiative, "to enrich and empower women of all ages through participation in surfing while emphasizing education, media literacy, and building a core community of leaders that will effect positive change in the world." I am interested in using The Inspire Initiative to develop creative, non-competitive spaces through which to explore surfing's potential as a complicated force for the physical liberation of women and girls around the world.
In 2013, I spearheaded a successful international campaign against Roxy that made visible the growing concern and pushback against the hyper-sexualization of elite female professional surfers, a problematic issue that continues to require attention and activism.
In 2015, I accepted an invitation to become an ambassador for Surfers for West Papua, a "solidarity and awareness-raising campaign aimed at exposing Indonesia's brutal oppression and on-going occupation of West Papua."
Words from elsewhere:
~*~
***
A Brief History of Us
Maria Cerda and I married in 2008 during the brief time period in California when it was legal for same-sex couples to wed. There were 18,000 same-sex couples wed during this time period, before Proposition 8 made it again illegal for same-sex couples to be legally recognized wedded couples in the State of California. Our marriage along with the 18,000 others wedded during this time frame, were grandfathered in, making us legally wed in the State of California although our relationship went unrecognized by the federal government until just recently. After a long fought battle, we are now recognized as a wedded couple in the United States of America. Our relationship existed in a strange in-between space for years though we knew exactly where our relationship stood between each other.
We look forward to and actively work toward a future where all our friends around the world might have the same choice we did in 2008.
 *
*