Tell Roxy That Female Surfers Deserve Better
Written by Cori, Posted in Feminism, Surfing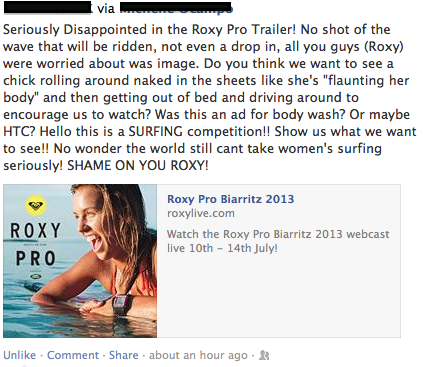 Dear Roxy,
Roxy is the world's most visible and well known women's surf brand. Recently, Roxy released a trailer for the 2013 Roxy Biarritz Pro contest that showcases a style of marketing women's surfing that is not conducive to a healthy, empowered vision of women. Instead of women surfers being presented as an alternative to the sexualization and objectification of women in the culture-at-large, this campaign succumbs to the lazy marketing that is already so prevalent.
As the most visible and well known women's surf brand, Roxy has a unique opportunity to truly make a difference in how women and girls are represented in the world.
We ask that you stop the sexualization of women in your marketing and advertising and instead, help to present women surfers in a light that women can be proud to be associated with and young girls can truly admire.
Sincerely,
[Your name]
Sign the petition asking Roxy to end this new campaign and to represent female surfers to the world in a way that we can all be proud of.